Among the best known Great War postcards are those produced from the summer of 1916 by the Daily Mail.  All show images taken by official British war photographers, and some of them, such as this one, are striking. 
The reverse of the card explains the circumstances in which the photo was taken, and I don't doubt what it says one bit.  In 1916, the Daily Mail won the rights to use these images by winning a tender and paying a small fortune (equivalent to not far off half a million pounds today) to the Press Bureau, following which they produced a total of 176 cards, sold in an eventual twenty two sets at sixpence each, half the profits going to official service charities.
Not all the sets were different, as the images were produced in three formats, colour, sepia (above), and also photographic facsimile, and millions were manufactured to satisfy the huge demand that followed the release of the first sets; within weeks you could purchase a special postcard album in which to display your collection.
Note that the reverse (shown here) of the sepia version indicates that this is Series 4 No 30 (the numbers are consecutive, thus, with each set containing eight cards, Series 4 contained cards Nos 25-32).  Compare with the number on the reverse of the colour version.
Naturally, other newspapers, as well as magazines, jumped on the bandwagon.  The Daily Mirror agreed a deal to produce cards using images taken by official Canadian war photographers, and Newspaper Illustrations Ltd produced a colour series featuring French official photographs such as this graphic and terrible image above (reverse below),…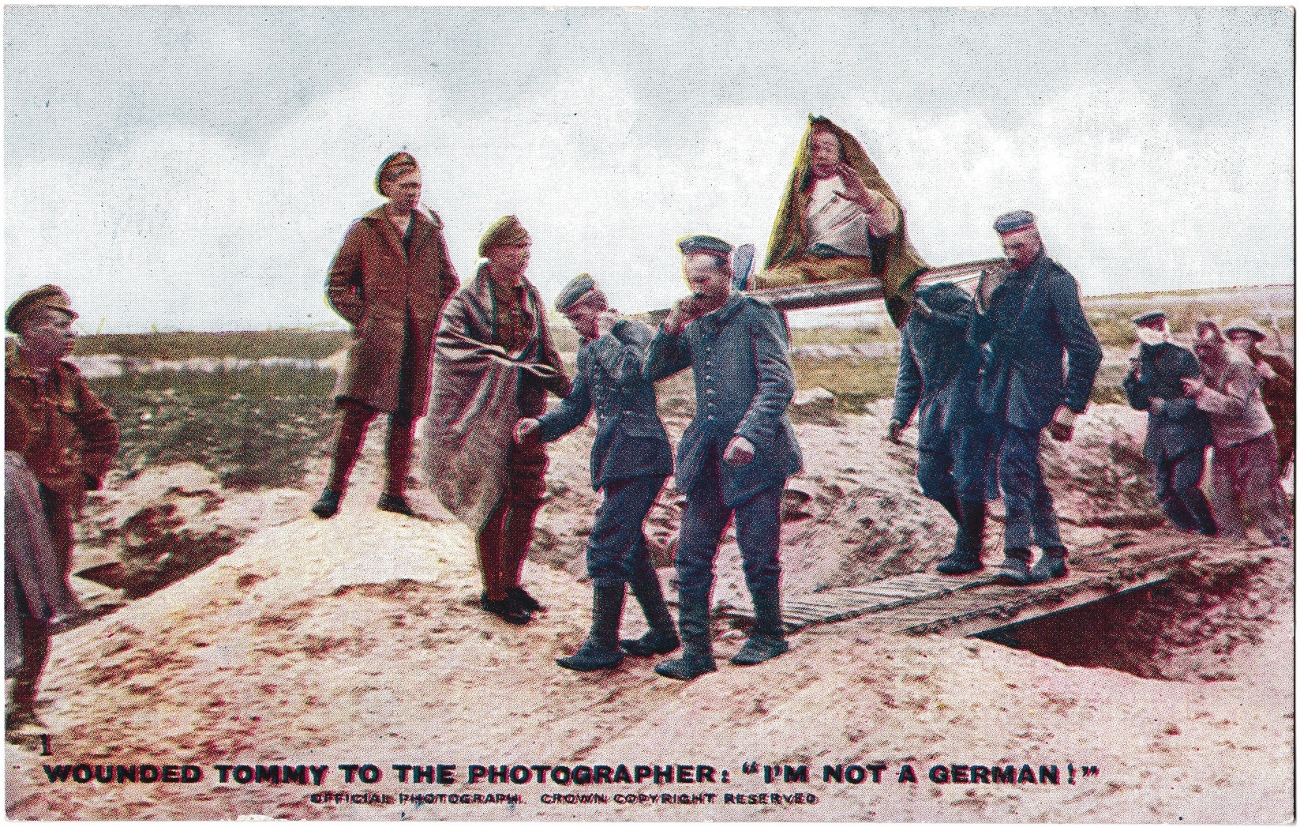 …but it was the Daily Mail cards that were the most popular, and are still, to this day, by far the easiest to find, this final one…
…being Series 1 No 1, and a mint copy to boot!  As a footnote, I seem to remember a television documentary, from not so long ago, in which an ultimately unsuccessful attempt was made to trace the identity of the soldier carrying his wounded pal on the first two cards.