Three examples of what are known as Lakos hand grenades, although why, I have no idea.
The Lakos grenade was another cheaply produced Austrian grenade made in a number of different sizes, but just one basic form,…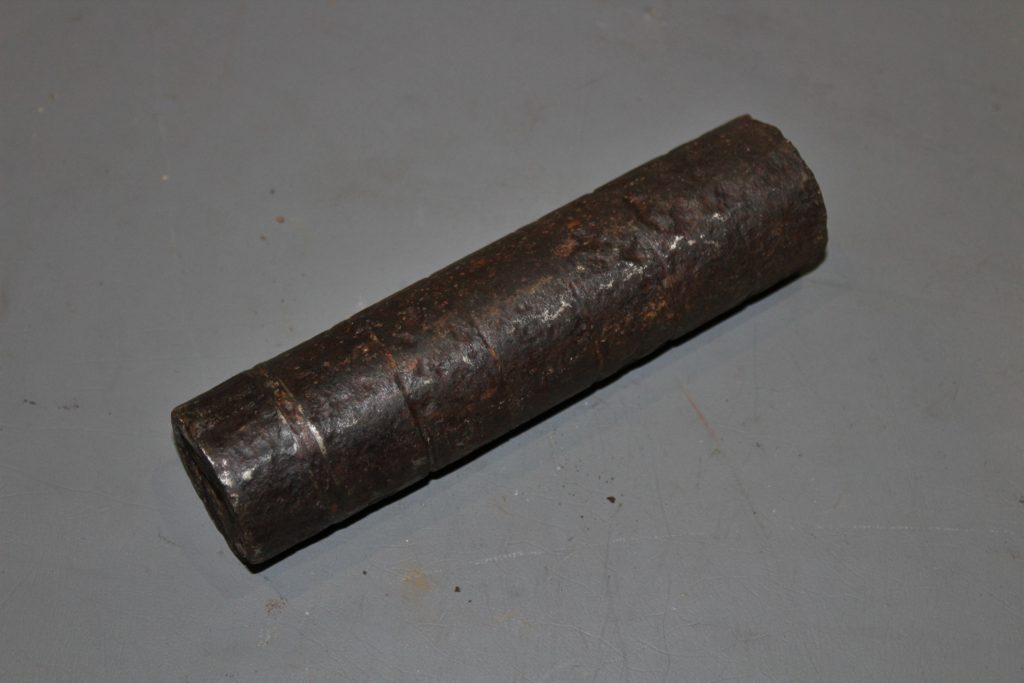 …that of a steel cylinder, grooved for better fragmentation.
The base of each grenade is solid, although the two larger examples have a protuberance in the centre of the base, inside the cylinder…
…for what reason I know not.
This end would have been filled by a wooden block (I believe some had wooden blocks at both ends),…
…and this example even has a small rim inside the cylinder for the block to rest on.  In these early versions the fuse would simply be lit and, after the requisite pause, the grenade thrown.
The third example, a later version, is fitted with a cap.  I doubt if the two earlier versions ever had caps; these were improvised weapons to a great extent, hence the many differences to be found.
In this Lakos grenade, though, the cap would have protected a percussion fuse embedded in the wooden block.
Remove the cap,…
…strike the fuse firmly on a hard surface, igniting the delay, and throw!
Of course, all three examples would have had a charge bag full of explosive inside when in use.
Seven-grooved Lakos, eight-grooved Lakos, and six-grooved Lakos (my nomenclature, but why not?).  It seems that these grenades are not so hard to come by on the battlefields of the Italian front even today, mainly because they so often failed to explode, either the fuse failing, or the explosion simply blowing the wooden block out of the end at extremely high velocity.  As with many Austro-Hungarian grenades, the Lakos grenade could be adapted for use as a rifle grenade, with a rod fitted to one end to slide down the rifle barrel.