As a postscript to our Tour of Langemark, this is a German grave marker that I acquired only last year.
It came attached to a card which, having been written in the 1960s, it would seem, is now an historical document in its own right.  And as with all such documents, let's see if the information contained within it can be proven, or otherwise, shall we?  On the minus side, the resources I needed to check were naturally all in German; on the plus side, my 'O' Level standard German has got me through before, and so it proved on this occasion.  The rest of the post is spruced up with a few scans from the postcard collection.  Who knows their relevance?
But I wonder whether any of these men were called Friedrich Adler?  It's possible.
The first piece of information I found, '34 exakte Übereinstimmungen wurden gefunden', did not initially seem too promising.  Hm.  So there are 34 Friedlich Adlers listed as killed.  However, as I began to check, many turned out to be Second World War casualties.  Twenty seven of them in fact.  Which left me with seven Great War Friedrich Adlers, of whom four are buried in cemeteries in France and can probably be crossed off the list.  One other I can find nothing about except a date of death, which may signify that his place of burial is unknown.  The two remaining Friedrich Adlers are Jäger Friedrich Adler, killed on 25th October 1914, and Landsturmmann Friedrich Adler, killed on 25th July 1915, and neither of them are buried in Langemark German War Cemetery.  Nobody of that name is buried in the cemetery, and thus our historical document has a serious flaw.  In actual fact both the remaining Friedrich Adlers are buried among the almost 48,000 men who now lie at Menen German War Cemetery, the largest German military cemetery in Belgium, which is as far as I can take it.  The tag belonged to one of them, I would think, but we will never know which one, unless the equivalent of the CWGC's graves registration forms still exist somewhere in the German archives, which I seriously doubt.
Maybe one of you is called Friedrich Adler?
The town of Menen is eleven miles or so south east of Langemark, on the border with France, and was in German hands throughout the Great War; we visited the communal cemetery there a few years back.  There's a road that connects Menen with Ieper, about ten miles away as the crow flies, that the maps refer to as the N8, but that we know better as the Menin Road (which, regulars know, has a category all to itself on this site, and can be found alphabetically on the right of the screen).  Ironically Menen German War Cemetery is perhaps five miles, no more, from Chez Baldrick, and yet in all these years we have never yet visited.
Were you wounded once, Friedrich Adler, and maybe photographed one afternoon, recovering in hospital before rejoining your battalion?
The obvious question is that if Friedrich Adler was originally buried in one of the German cemeteries around Langemark, why was he not reinterred in Langemark German War Cemetery, the closest of the German concentration cemeteries in Belgium to his original place of burial?  I don't have a definitive answer, or any sort actually, apart from I don't think it was actually that unusual; certainly there are some British soldiers who were reinterred after the war far from the scene of their original burials, as we saw recently at Cement House Cemetery.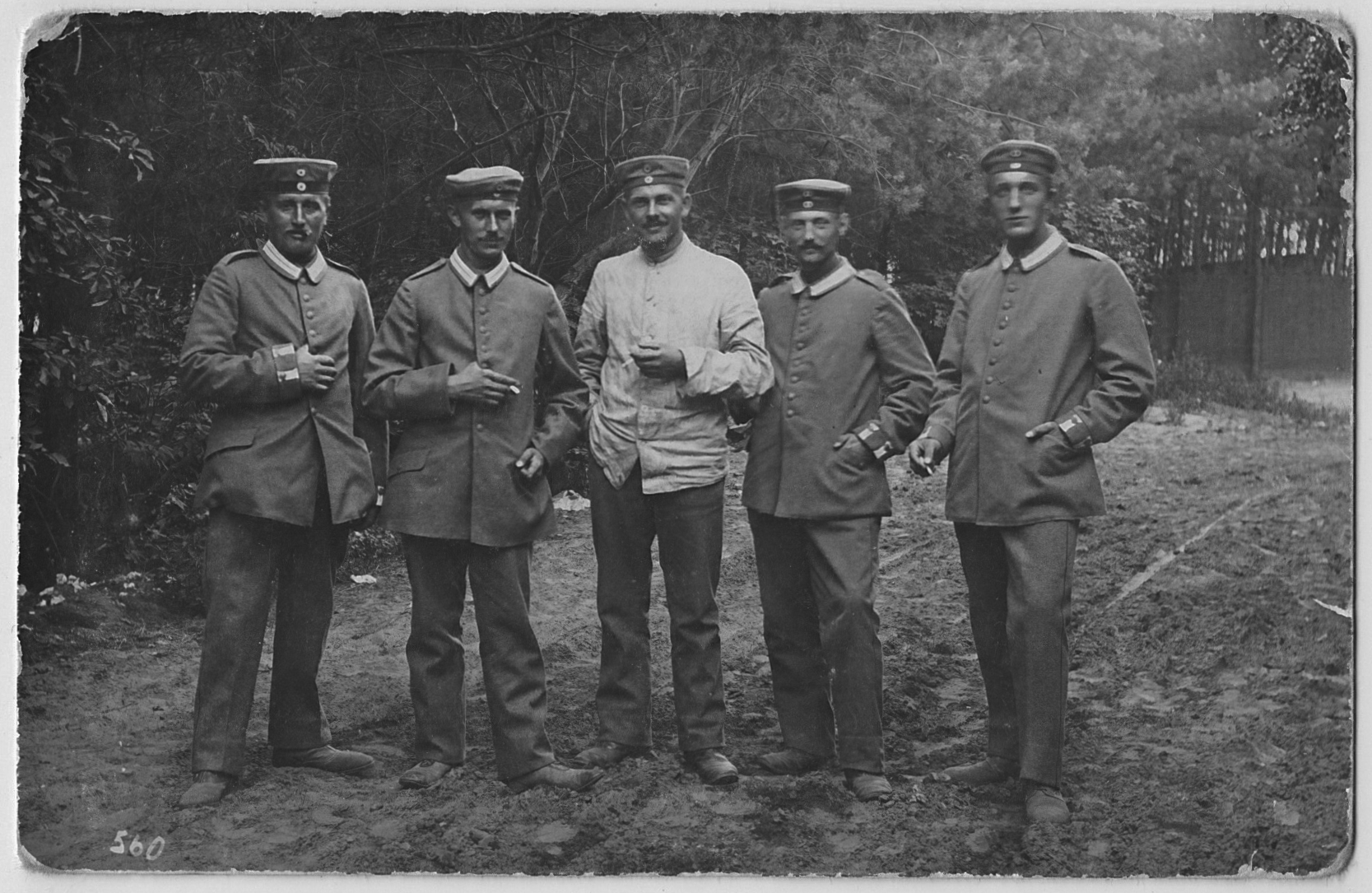 Perhaps this is you and your mates, having a smoke, somewhere behind the lines.
In the final weeks of the Great War the Germans retreated east, leaving a huge number of burial grounds, large and small, maybe as many as 678 as the card suggests, behind them in Belgium.  On the cessation of hostilities the sites of these cemeteries were rented from the Belgian government, but only for thirty years, and although as the years passed many of the single graves and small cemeteries were concentrated into larger ones, the number reduced to 170 by the mid-1930s, between the wars you were as likely to stumble across a German cemetery in Flanders Fields as a British one.  Following the Second World War, the Belgian & German governments reached an agreement whereby the remaining cemeteries would be concentrated into just three, the land, however, now given 'In Perpetuity'.  And thus the German war cemeteries that we now see at Langemark (approximately 44,000 burials), Menen (nearly 48,000) & Vladslo (over 25,000), were created.  It was decided that a fourth cemetery, at Hooglede, created between the wars and holding 8,247 burials, would also be left untouched, although I don't believe that any burials were concentrated there after World War II.  And should you ever visit Zeebrugge, a small German military cemetery containing between 170 & 180 burials, forty in a mass grave, still exists next to the church.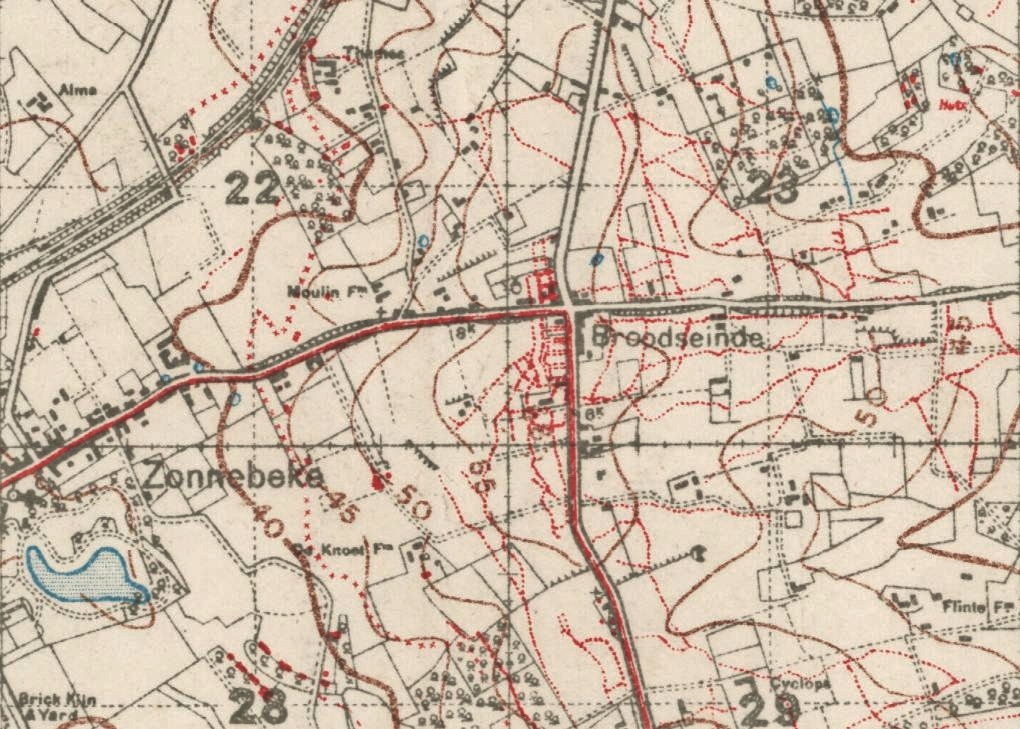 Three map extracts to finish with, just for interest's sake, that enable us to put rough dates to the creation of two of the original wartime German cemeteries in Belgium.  In April 1917 this British trench map shows a conglomeration of what appear to be marked as German trenches around the crossroads at Broodseinde,…
…which by July 1917 are identified as a cemetery (actually two cemeteries, Zonnebeke-Broodseinde Nos. 102 & 103).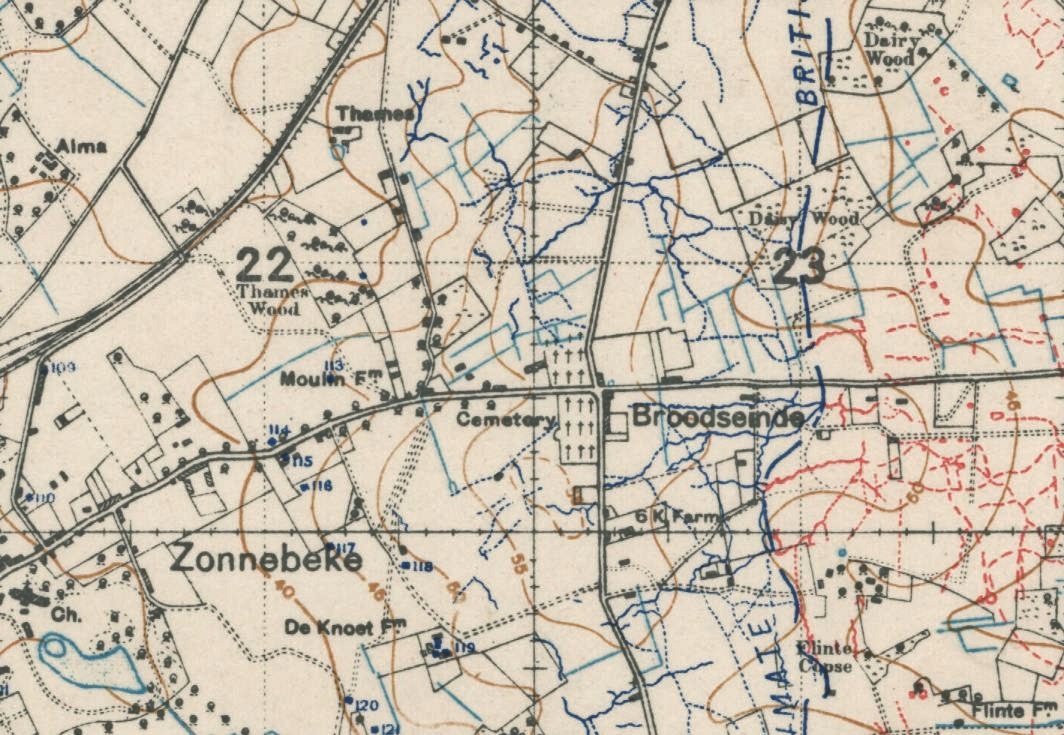 The crossroads in December 1917, the cemeteries now in British hands, the one to the north of the road marked as having increased in size.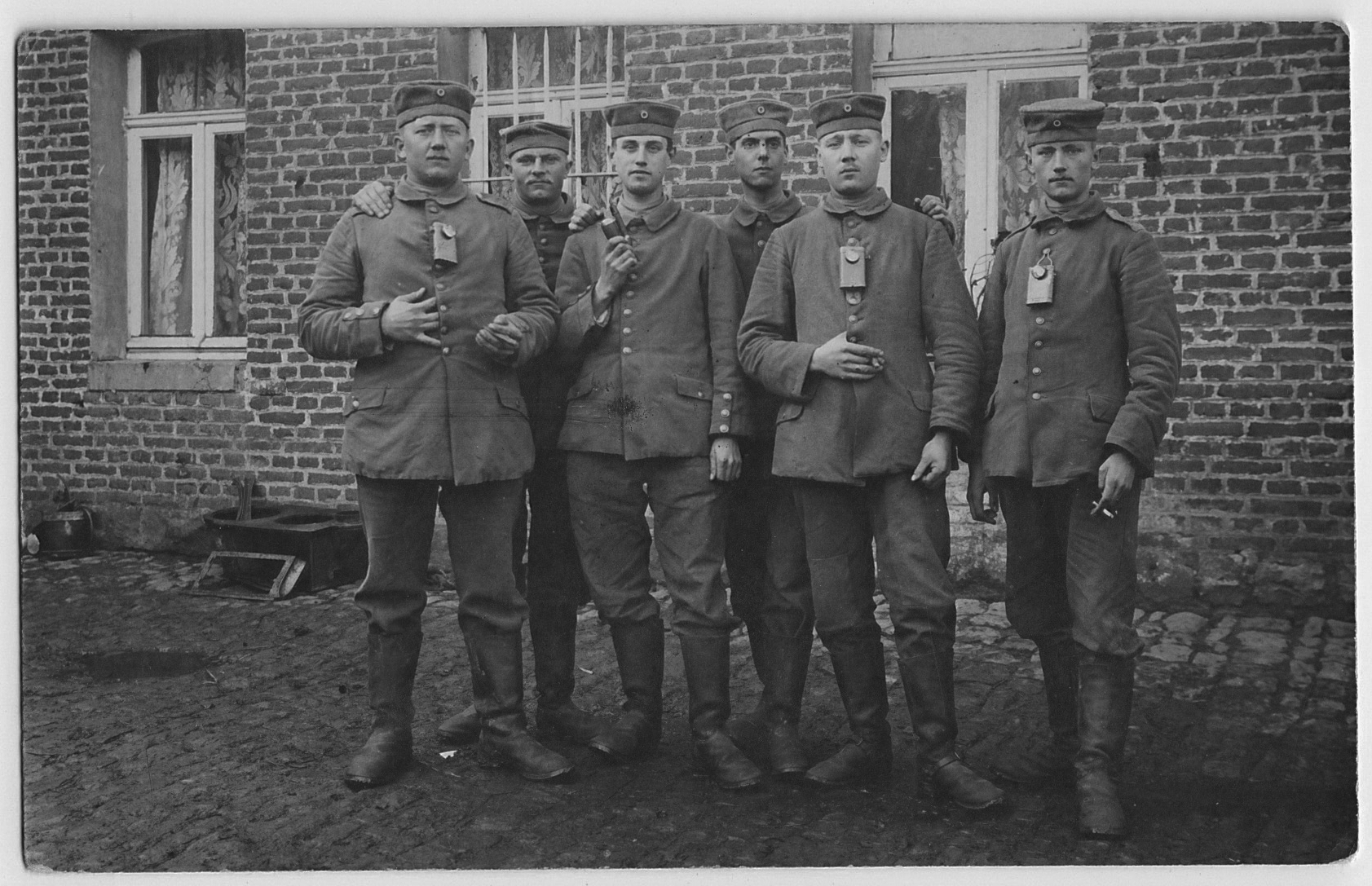 Friedrich?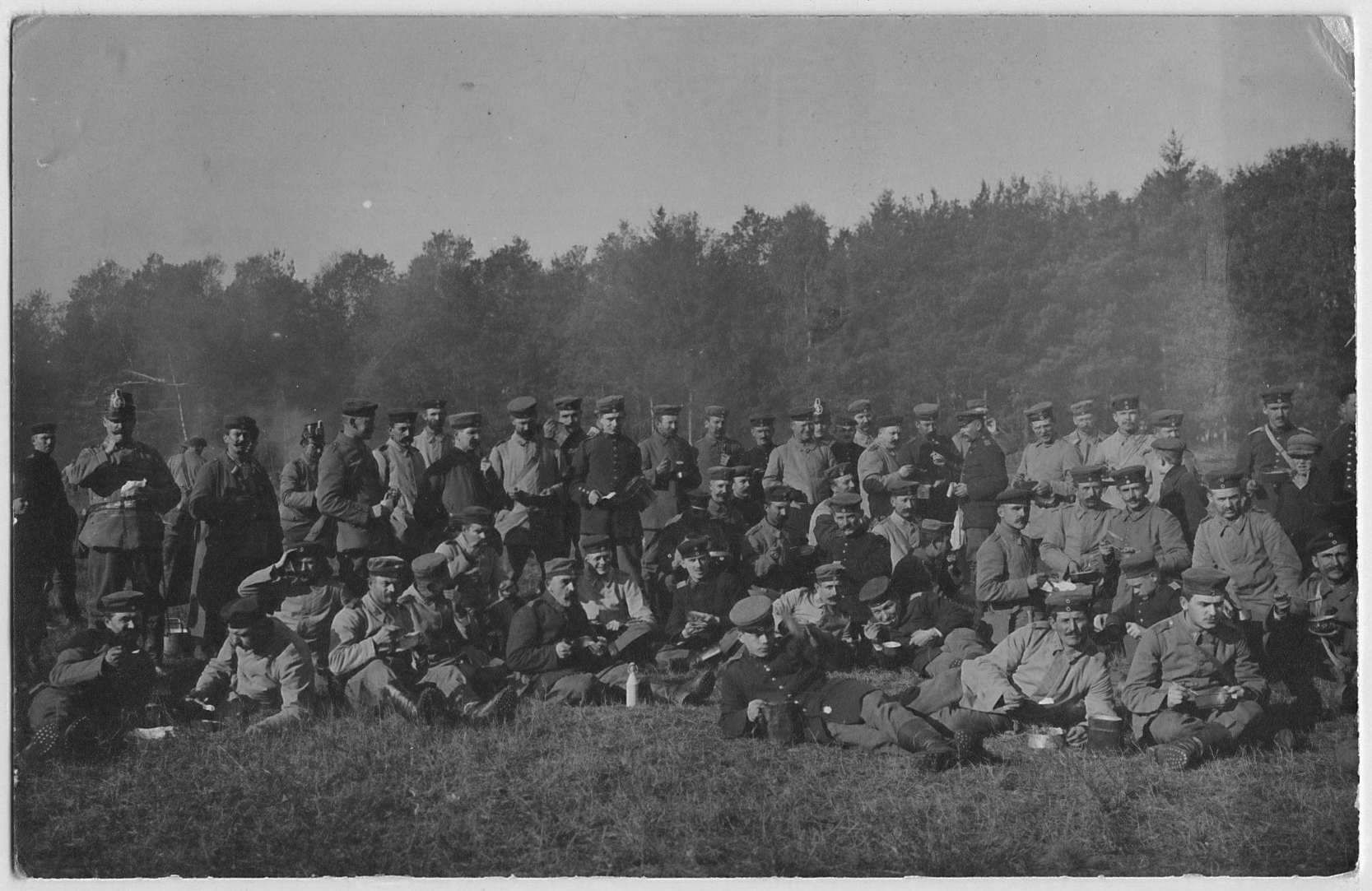 Friedrich Adler?